Sharing a phone amongst family—and even friends and communities—is a common practice for new internet users coming online now for the first time. When multiple people have access to the same phone, important files like identity documents become public within that small group. This exposure often disproprotionately impacts women and people who are non-binary, who can be subject to strict gender expectations and higher levels of discrimination and judgement—even, and sometimes especially, within their inner circle.
Safe folder was developed as a device-specific solution to this unique security issue. The app experience was designed to make users feel protected, but also empowered, while establishing inclusive standards for a more equitable web for all. Here's how it came together, how it works, and what it means for the future of online, and on-device, privacy.

Starting with research
In 2019, Google researched the digital experiences of women and people who are non-binary in seven countries with large populations of new internet users—Bangladesh, Brazil, India, Indonesia, Mexico, Nigeria, and Pakistan—and the resulting report, Toward Gender Equity Online, highlighted privacy as a main concern. Many respondents spoke about online privacy concerns, like hesitancy to disclose revealing information, fear of offending someone with their online activity, or frustration about (mis)understanding various settings. Others discussed device-specific privacy concerns, like saved photos or documents, and browser visits. The findings illustrated that these issues disproportionately affect women and non-binary people.
Solving for device-specific issues was a perfect project for the Files app team. Files app is a file browser and management system launched in 2017, specifically with next billion users in mind. When groups share a single, smaller-gigabyte phone with little (or no) access to the cloud, it's easy to run out of space; Files app, which comes pre-installed on many Android phones, makes room by cleaning up and maintaining usable storage and eliminating digital clutter. It became an accessible solution to a common problem—and adding unique security capabilities was a natural progression.

Developing Safe folder
Bringing Safe folder to phones across the globe was a complex process. To start, the Files app team set out to understand existing, makeshift solutions. Some users from the gender equity research had gotten creative, using app locks to prohibit access to sensitive information, or Incognito mode when searching; many others simply stopped engaging in certain activities on their shared smartphones.
Files UX designers decided to pursue a feature that would give users a way to lock up their sensitive files—but engineering the app was a challenge. On the back-end, the engineering team had to figure out how to incorporate a sophisticated feature like this to function on a range of devices, each of which had their own technical limitations. It was also important to ensure that the app itself wouldn't take up too much space, or dominate a device's entire operating system.
In addition, the team had to consider the digital literacy of their users, many of whom were navigating smartphones, and the Internet itself, as newbies.


How it works
After nearly two years of development, the result is Safe folder: an encrypted folder that protects important documents, images, videos, and audio files with a four-digit pin. Safe folder appears in the Files app alongside other folders, but locks as soon as a user sets up their PIN or pattern lock.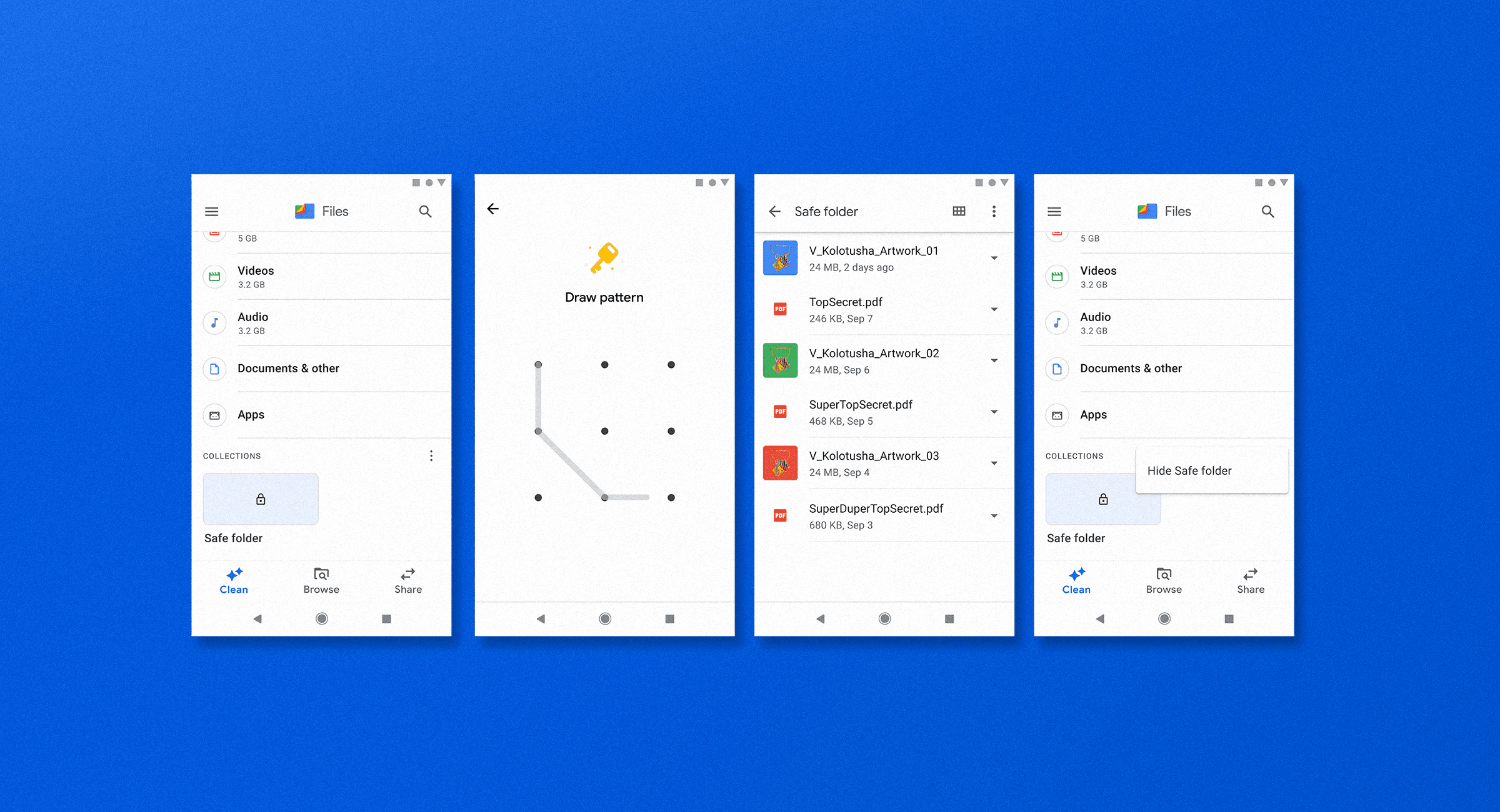 Safe folder keeps device-specific data private and secure.

Universal implications
Designing to address the needs of new internet users is critical to ensure this next generation of digital denizens can be confident both on- and offline — but it has major implications for experienced users, too. Files app found an audience with anyone who wanted help keeping their assets in order, and Safe folder has proven incredibly popular among anyone who feels they could use a bit of extra protection for sensitive files (a parent with a device-curious child, or a person whose phone is managed by their workplace). It's an important lesson: Smart solutions designed for specific problems can easily transcend their initial scope, and considering the needs of some users can benefit them all.
10/28/2021
Contributors