In this episode, host Travis Neilson interviews two of Google's UX designers to discuss the newly launched Google Job Search—a product that helps job hunters find and connect with potential employers. From the effects of transactional memory on users to making UX decisions based on behavioral science, tune in as Peter Jin Hong and Scott Wasson unpack how qualitative research shapes the job-seeking landscape.
Want to learn more about the journeys and creative decisions of designers at Google? Subscribe to the Method podcast on Google Play, iTunes, RSS, or Spotify.

A few highlights:
On fostering empathy
"We can truly help humanity if we know what makes us tick, what makes us scared, what makes us inspired, what makes us push ourselves. [Looking for a job] is one of the scariest things in your life—it's about having agency, and dignity, the ability to stand tall, and feed your family."
– Peter Jin Hong
On the importance of being reliable
"We want users to be able to trust the jobs that we're showing them, especially now that we're getting into recommendations. It affects people's psyche."
– Scott Wasson
On data-driven design
"Good qualitative research is helping our great quantitative research. It's also referred to as thick data, because qualitative research allows depth in really understanding what people are going through."
– Peter Jin Hong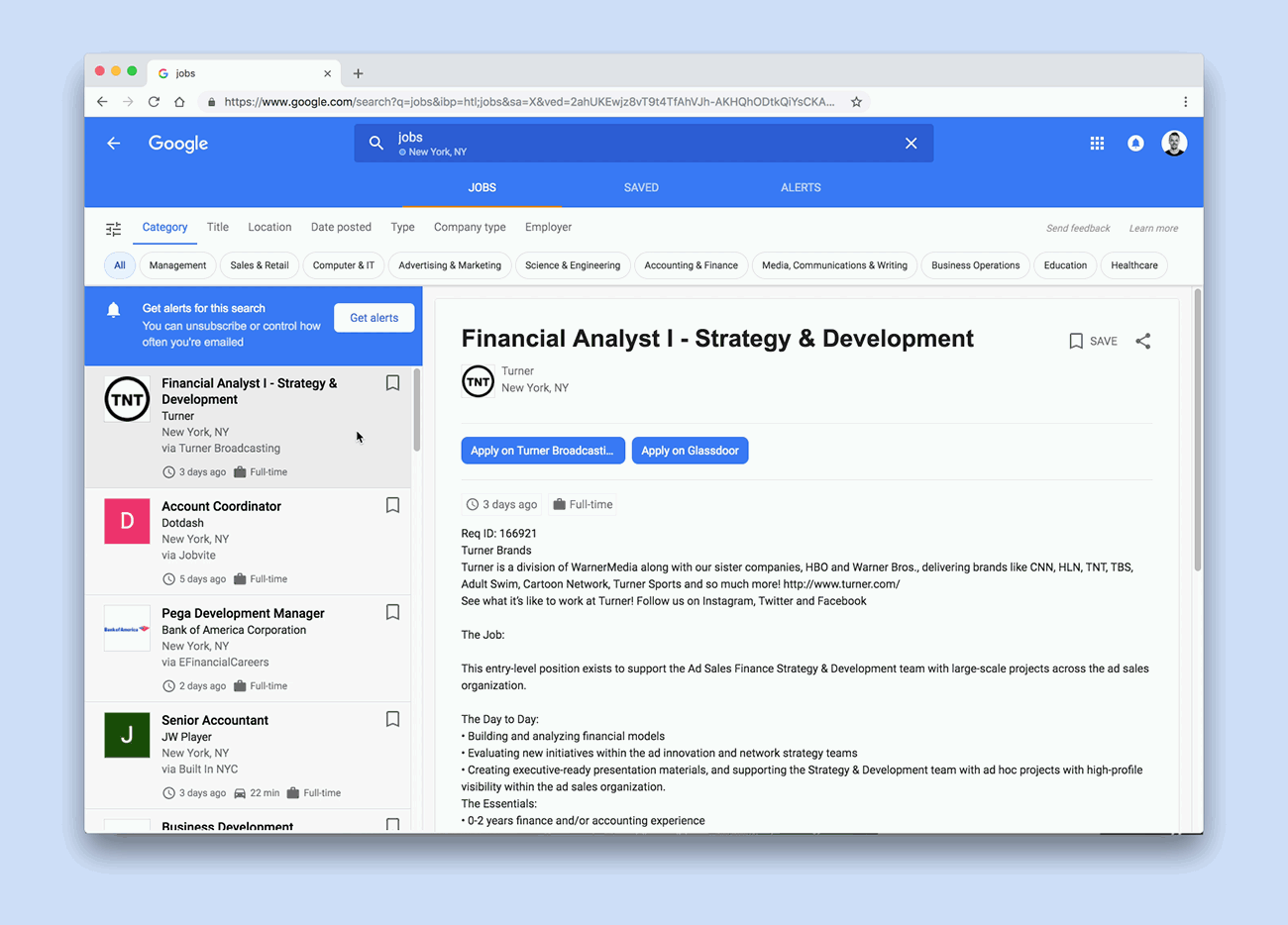 A user scrolling through job opportunities in New York City on the Google Job Search interface
Handy info and links for this episode:
Google Search is the most-used search engine on the web across all platforms, handling more than three billion searches per day. 
Google Job Search is a tool designed to power smarter job hunts and recommendations within career sites, job boards, and other job-matching sites using AI and ML.
Jobs for Veterans is a tool where service members can enter their specific military job codes to see relevant civilian jobs that require similar skills—essentially helping veterans transition back into civilian life.

Dscout is a self-service research app that uses different media—photos, videos, and texts—to document people's real-world experiences.

A diary study is a research methodology that documents people's experiences, in context and real time, using their mobile phones.

Scott Wasson is a senior Google product designer, specializing in user-centered design, user research, and user testing.
Peter Jin Hong is a UX lead at Google, specializing in design strategy, empathy, and behavioral science.
---
Do you have a burning question for a designer at Google? Or a story you'd love to hear? Give us feedback in a short survey to help make the show even better.  
12/04/2018
Contributors